5 bottling lines with total capacity over 50 mln litres per year

100 000 points of sales in Russia. Export in over 50 countries.

Czar's vodka is the top selling brand in Russian premium and super premium categories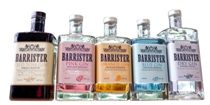 Barrister is №1 gin in Russia

Ladoga's brands won over 60 golden medals from various international competitions
LADOGA GROUP is a strategic partnership of several independent enterprises which were joined together for the production and import of alcoholic products and bringing them to consumers.

GOAL – To create a unique range of high quality wines and spirits not only for purists and demanding connoisseurs and scrupulous experts, but also for novices, wine lovers and those who have decided to join in spirit consumption culture.

MISSION – Responsible and competent immersion in a drinking culture of all interested consumers.

The strategic alliance includes following independent enterprises:
Ladoga distillery, Russia

Ladoga distribution, Russia
Fruko - Schulz distillery, Czech
Roullet cognac house, France

Bodegas Camino Real winery, Spain

The joined enterprises managed to
Produce over 100 spirit brands with different alcohol strengths

Import over 100 SKUs from around the world

Organize merchant services with approximately 100 000 sales outlets all over Russia

Export products in over 50 countries
Market positions of Ladoga's brands
Our brands annually prove their market positions in various categories.
The main vodka brand of Ladoga Group premium vodka Tsarskaya/Imperial Gold, grew by 20 positions in the overall rating of the Millionaires Club and entered the top of the fastest growing vodka brands in the world according to the authoritative magazine Drinks International.

Drinks International magazine has published the annual journal supplement Millionaires Club. This is the ranking of – spirits brands, whose global sales exceeded 1 million 9-liter cases. Tsarskaya/Imperial Gold has grown from 148 (in 2018) to 128th place. The growth of sales of the brand in 2018 amounted to 14%. For the third year in a row, Tsarskaya/Imperial Gold is in the top of the fastest growing vodka brands in the world (1st place in 2017, 3rd place in 2018, 4th place in 2019), showing steady growth year by year.


Barrister is №1 brand in Gin category in Russia. Volume of sales of brand amounted 50 thousand of 9-litre cases, which is 73% more than last year, and 47% more than the nearest pursuer. At the same time, the brand holds a share of 35% of gin sales in Russia. Thanks to the efforts of close-knit team of LADOGA, Barrister gin could to be №1 just in 2 years of sales leaving behind international brands. In just 2 years of existence, the brand has received high awards at the international tasting competitions The Global GIN Masters (UK), Beverage Tasting Insitute (USA) IWSC and World Gin Awards.



'Fruko Schulz' keeps a leading position in its category. More than ever, bartenders across Russia trust Czech producer. 'Fruko Schulz' liquors range came in top place in 2014 and they have not taken a back seat ever since. In 2018 Fruko Schulz managed to sell 48,13 thousand 9-l cases, the growth of sales of the brand amounted to 14% . 'Fruko Schulz' is the absolute leader in the niche, the brand left behind the nearest pursuer by 21 thousand 9-l cases (73%)
According to Federal Customs Service:
Wine
LADOGA entered the top-10 importers of Old World and New World wines.
Catalonian sparkling wine Cava Nuviana, which is exclusively imported by Ladoga, became absolute leader. The brand holds 13% of the market share in its category.
#1 importer from Australia
#3 importer from Argentine
#4 importer from South Africa
#5 importer from the USA
#5 importer from Rioja and #15 from Spain
#9 importer from Portugal
#10 importer from New Zealand
#10 importer from Chile
#13 importer from France
#13 importer from Italy
STRONG SPIRITS
#2 importer of calvados
#10 importer of cognac
#19 importer of whisky
LIQUORS
#1 importer of absinth (50% market share)
#1 importer of amaretto (37% market share)
#4 importer of bitters
International recognition
Ladoga's products were awarded with over 60 gold medals in different international competitions. Vodka "Imperial collection Gold" - the export international brand name of "Czar`s vodka" - became an absolute leader in the number of awards among Ladoga products. In particular, Ladoga's products got medals in such alcohol drink shows as International Review of Spirits, Beverly Hills International Spirits Awards, The Vodka Masters, Monde Selection, Superior Taste Award, Hong Kong International Wine & Spirit Competition, Prodexpo, United Vodka, Russian vodka & drinks for American market, BestVodkaAward, ANUGA, Vinexpo, SIAL, Moscow Wine & Spirits Competition.


Public Activity
As a socially responsible company, Ladoga group supports different medical, cultural, educational and sport institutions and entities. It also takes part in organization of important governmental and international events.
Ladoga Company is a member of "The Friends` Club" of Hermitage, The Russian Museum, "State Museum & Reserve Tsarskoye Selo" and "State Museum & Reserve Peterhof".
The Company pays a lot of attention to projects on corporate responsibility and regularly supports veterans` organizations, such as the unions of veterans and survivors of the Siege and charity programs.